Delivering the Complete Domestic Electrical Service Solution
Switching to LED lighting has become the new trend in domestic properties and for good reason.
You can utilise Light Emitting Diodes (LED) lighting anywhere in the home and they come in various designs. Whether you are looking for lighting inside or outside the home, spotlights in the kitchen or down lighting in the bathroom, LED lighting may be the best solution.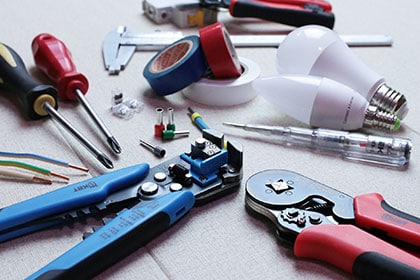 Why Choose LED Lighting?
Save Money – You can save 90% on your lighting costs. LEDs have a longer lifetime than traditional light bulbs. In fact, LEDs can last up to 30 years or 50,000 hours.
Save Energy – LEDs, unlike traditional light bulbs, are a solid light source. Traditional Light bulbs expel heat energy as well as light energy, which is effectively wasted. In addition, LEDs are better for the environment as they contain no lead or mercury and emit no UV rays, infrared or ultraviolet radiation. Saving energy reduces the demand on power plants and therefore reduces our greenhouse emissions. A small change that saves you money can help to save the environment.
Save Time – Forget constantly changing blown light bulbs, LED lighting is reliable and robust. It is suitable for indoor and outdoor use and switches on instantly, without the flickering we now associate with low voltage bulbs.
Here at Paul Hunt Electrical Installations, our qualified professionals and are able to advise you on the best solutions for your home. If you are looking to renovate your property, LED lighting could be just what you are looking for. Get instant bright lighting which saves you money and reduces your carbon footprint. Our electricians deal with everything from consultation to installation. Why not contact Paul Hunt Electrical Installations today to discuss an LED Lighting upgrade or your renovation project in general.