Delivering the Complete Domestic Electrical Service Solution
Storage heaters are electric heaters which charge during the night and release heat throughout the day.
Paul Hunt Electrical Installations can safely and efficiently remove your old storage heaters and install new heaters that comply to Lot 20.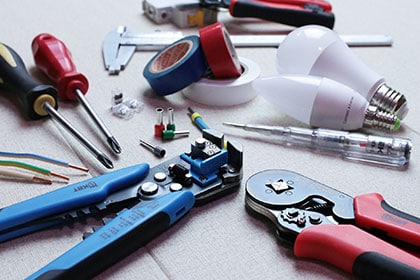 Lot 20 Legislation
Lot 20 is a new initiative to remove inefficient technologies and reduce wasted energy from heating domestic properties. Overall, the aim is to reduce carbon emissions throughout the European Union. Consequently, ammendments have been made to UK legislation. You can find guidelines at https://www.lot20.co.uk/storage-heaters.
From 1st January 2018, all storage heaters must have:
Electronic heat charge control with room and/or outdoor temperature feedback or controlled by an energy supplier
Electronic room temperature control plus week timer
Fan assisted output
What are Storage Heaters?
Storage Heaters contain thermal heating bricks, which heat up the air that circulates through the device. The bricks store heat during the night to release at a constant rate throughout the day. The heating level of the bricks and the release level of the heat is adjustable to suit the environment.
History
During the 1950s, the rising demand for electricity resulted in the development of large power stations and visions of a new grid structure. The following decades led to the rapid increase for electricity in domestic properties throughout the UK. Electrical companies were finding it more cost efficient to keep power stations running, rather than turning them off at the end of a workday. As a result, the energy produced at night was being wasted. During the 1960s they provided a cost-effective solution for electrical companies and consumers alike. With the introduction of the Economy 7 Tariff, offering cheaper rates to consumers, who could utilise the excess energy being produced at night.
As a result, storage heaters became widely installed in domestic properties as they cost a lot less to run, install and maintain.
Conclusion
Since the 50/60s, there have been significant advancements in electric storage heaters. Overall these improvements encompass similar cost savings but are far more energy efficient. Storage Heating Installations have various controls and accessories that prevent wasted heat and save costs. If you have a building pre-2000s you will need to consider updating your storage heaters in order to comply with the current legislation and remove any hazardous material, such as Asbestos.