Delivering the Complete Domestic Electrical Service Solution
Panel heaters are electric heaters which work solely by convection, heating the air that then circulates around the room.
Convection panel heaters are a low-cost option for domestic properties, providing a good level of heat, quickly and when most needed.
They are practical, reliable, long-lasting and come in a range of designs. Moreover, they are inexpensive to buy, install and maintain. Unlike gas heaters, they don't need servicing or bleeding and there is no risk of carbon monoxide poisoning. In addition, they can be wall-mounted or portable providing you with maximum flexibility.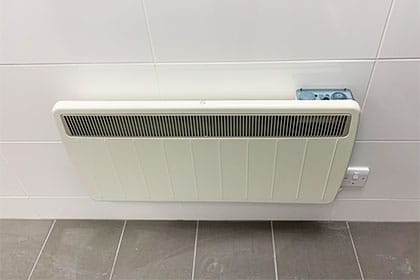 If you are looking to mount your heaters, there are a few things to consider prior to installation.
1. Design
The various designs available give you the flexibility to mount panel heaters virtually anywhere. They can be wide, long, compact, slimline and come in a range of colours. In addition, they often have pre-cut holes to assist with fixing and drilling.
2. Power
It's important to install your heaters near power sockets to avoid cabling hazards. It's essential to check that you are not drilling into any internal power cables in the wall.
3. Fixing
Most importantly, ensure that you are not drilling into any internal pipes or cables in the wall. Also, ensure you have the correct fixtures for the wall, is it a solid or hollow wall? Overall, ensure your heaters are securely fixed to avoid accident or injury.
4. Advice
Even if you are intending to install your own panel heaters, it is important to consult a certified electrician for advice. Qualified contractors can advise you on the best position, fixtures and ensure that you are not damaging any cables or pipes in the wall. In addition, you may want to consider hard wiring your heaters to ensure electrical safety. Furthermore, our team can ensure that your panel heaters comply with current legislation.
Lot 20 Legislation
Lot 20 is a new initiative to remove inefficient technologies and reduce wasted energy from heating domestic properties. Overall, the aim is to reduce carbon emissions throughout the European Union. Consequently, the UK legislation has been amended. Guidelines can be found at https://www.lot20.co.uk/