Church Power and Lighting

Delivering the Complete Industrial & Commercial Electrical Service Solution from Design to Installation
Paul Hunt Electrical Installations design the best church power and lighting solutions to meet safety requirements, without interfering with the aesthetics of the building and regular public use.
Furthermore, we understand that places of worship require respect, minimal disruption and consideration for the traditional character.
We appreciate the potential restrictions and special considerations when dealing with churches and other places of worship. Churches often have electrical systems that are no longer fit for purpose and do not comply with building regulations BS7671.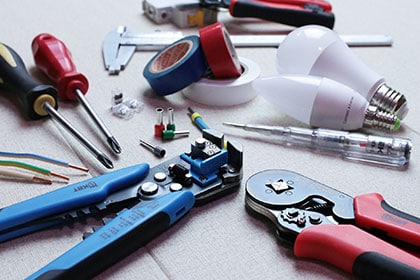 In addition, the architectural buildings themselves can prove obstructive when updating your church power and lighting installations. Old traditional buildings commonly consist of exceedingly high ceilings, large vertical stone pillars, large beams and features under protective orders.
Safety
Firstly, and most importantly, you need to protect the individuals and the assets in your church. Safety is a priority during installation and maintenance, as Churches are in constant use and are accessible to the public. Consider if you require electrical re-wiring, new lighting systems, updated fire systems and/or security or emergency lighting. In fact, you are legally responsible for commissioning a certified electrician to carry out condition reports on your power and lighting systems.
Problems Associated with Old Electrical Installations Include:
Lack of A Residual Current Device (RCD)
Old switches & sockets
Old wires and poor connections
Lack of Basic Earthing on mains cables and all lighting circuits pre 1967.
Options to upgrade Church Power and Lighting Systems:
Lighting
You can use floodlights, spotlights or ground lights, depending on the space and design of the building. Flood Lighting provides a high-intensity beam of artificial light for large spaces. Spotlights are useful to highlight focal points like the alter, the emergency exists and areas which lack visibility.
Fire Safety
Churches are subject to The Regulatory Reform (Fire Safety) Order 2005 of England and Wales. Therefore, the 'Responsible Person' must conduct a Fire Risk Assessment to ensure that the building meets certain standards.
Cost
Overall, with the developments in LED upgrades, you can get instant bright lighting, which saves you money and reduces your carbon footprint.
In conclusion, we have the experience and expertise to design, install and maintain all of your systems cost-efficiently.