Delivering the Complete Industrial & Commercial Electrical Service Solution from Design to Installation
Does your Emergency Lighting Comply with British Standards?
Emergency lighting is independent of your main power supply. Its purpose is to automatically provide sufficient lighting when all other power sources are not able to operate. For example, in the event of a fire or power cut. Most importantly, emergency lighting ensures the safety of you and your staff, highlighting the exit routes of your premises if/when danger arises.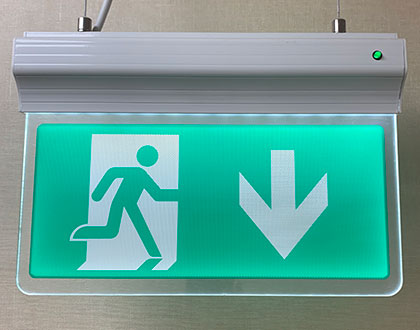 At Paul Hunt Electrical Installations we have the expertise to design and install emergency lighting systems to your specification. We support you from the initial consultation right through to complete fitting and testing. We have extensive experience in installing systems in various locations, including; schools, hotels, office blocks, and industrial units.
Emergency lighting is necessary wherever you might find artificial lighting, typically in the following areas:
Outside each final exit point
At firefighting equipment
Near to corridors and intersections
Near to stairs and adequate to shine direct light on all treads
On escape routes
Open areas greater than 60 square metres
Areas of special risk
At any change of direction
At any changes in floor level
Near to first aid points
Legislation
The Regulatory Reform (Fire Safety) Order 2005 requires that reasonable steps are taken to reduce the risk of fire and ensure a safe escape. Overall, this responsibility falls on any and all individuals with a level of control in the premises. In reality, this may be the building owner, the business owner or managers of staff. The British Standards Institution require all commercial buildings to adhere to safety standards. Therefore, it's essential to choose a highly skilled electrician to ensure your emergency lighting complies with BS 5266-1 building regulations.