Delivering the Complete Industrial & Commercial Electrical Service Solution from Design to Installation
Smoke Detectors Save Lives
All commercial premises are subject to The Regulatory Reform (Fire Safety) Order 2005 of England and Wales. This 'Order' sets a standard for fire safety with the employer, or owner, as the 'Responsible Person'. The 'Responsible Person' must conduct a Fire Risk Assessment to ensure that the commercial building meets certain standards. However, regulations and minimum standards adapt depending on the size and type of building, the number of employees and whether or not you have guests.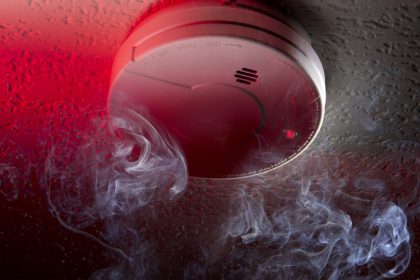 Originally, most fire alarms were Heat Detectors, rather than Smoke Detectors. A Heat Detector is insensitive to smoke but will detect the increase in temperature when there is a fire. Heat detectors are still widely used in kitchens, preventing constant alarms when cooking.
When discussing commercial buildings, however, you will need to invest in Smoke Detectors and more than likely several of them.
What Types of Smoke Detectors are Available?
There are three types of Smoke Detectors:
1. Ionisation – These alarms are sensitive to fast-flaming fires with small smoke particles.
2. Optical/Photo Electronic – These alarms are sensitive to slow-burning fires with large smoke particles.
3. Combination – Optical Smoke and Heat Alarm – These alarms give you the best of both worlds offering fast smoke detection without constant false alarms. False alarms can make us complacent – It's Essential to Never Ignore an Alarm!
It is important to assess your premises thoroughly and determine which fire alarms will suit the area best. As a general rule, you will require at least one on each floor and a combination optical and heat alarm will probably be best. However, the more alarms you have the better the protection. It is advisable to consult an electrician to assess and install your smoke detectors.
We all know the importance of correctly installing a fire alarm, testing it regularly and replacing the batteries. However, for maximum protection, it is best not to rely on batteries alone. You can connect your smoke detectors directly to your electrical system. By hard-wiring your smoke detectors and interconnecting them throughout the building, you can have peace of mind that you will know the second that one of the detectors senses smoke, as all alarms will sound in unison.
At Paul Hunt Electrical Installations, we appreciate that the safety of you, your staff and customers is paramount. It is important to ensure you have the warning as soon as possible to increase your escape time.
Contact Paul Hunt Electrical Installations today to discuss fire regulations and smoke detectors.