Delivering the Complete Commercial Electrical Service Solution
At Paul Hunt Electrical Installations, all of our electricians are IPAF trained and PASMA certified. We can provide you with the necessary advice to protect your workers.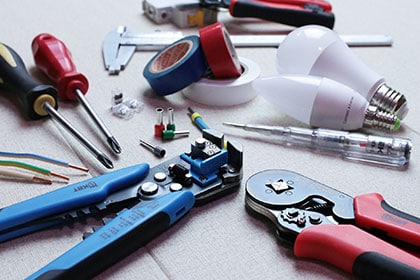 The law states that as a business owner, you must ensure the safety of the commercial building you occupy and the safety of your workers. In addition, it is also your responsibility to ensure your workers know how to safely carry out their duties.
International Powered Access Federation (IPAF)
The IPAF is responsible for maintaining safe and effective standards and testing across a range of industries throughout the world. IPAF set standards on the safety of individuals and how those responsible can minimise risk to safety. IPAF training consists of a range of theoretical and practical elements for the attendee. Furthermore, the attendee takes part in various tests to determine their understanding and ability to carry out tasks safely. It is
important to ensure the electrician you hire has a Powered Access Licence (PAL) accreditation by the IPAF.
Prefabricated Access Suppliers' and Manufacturers' Association (PASMA)
The Health and Safety Executive (HSE) and UK Contractors Group approve training set by PASMA. The construction industry is most familiar with this qualification, due to the training for those working on mobile access towers, that operate at heights. However, PASMA also provides training on how to operate low-level prefabricated access units. PASMA consists of a range of theoretical and practical elements which are rigorously tested. Regardless of industry, this qualification ensures you are prepared no
matter what commercial premises.
At Paul Hunt Electrical Installations, all of our electricians are IPAF and PASMA trained. No matter what your industry or type of commercial building, we can handle your electrical installations and advice you on how to ensure the safety of you and your staff.
Our team has extensive experience working with new and old installations in large-scale industrial and commercial electrical installations. Whether mains, single or 3 phase electrical power systems, we have qualified electricians to handle any installation in any type of industry.
Overall, you should hire the most qualified electrician for the job…here at Paul Hunt Electrical Installations, we have the right electricians for any job of any size.